Juggling life as a researcher and a single mother has been the biggest challenge faced by UQ Centre for Clinical Research chief investigator Dr Hanna Sidjabat. Ahead of International Women's Day, Dr Sidjabat shares her journey from an Indonesian student to a researcher in Australia.
Women play an important role in shaping the next generation, not least of all because they are the vessels for delivering babies into the world.
In the majority of families, mothers play the primary role in raising and educating children, and I believe that women educate their children even during pregnancy. Particularly in the first two years of life, education is important for a child; but at the same time a mother may have a strong desire to be a scientist, researcher or business leader.
Both roles require a lot of time and effort.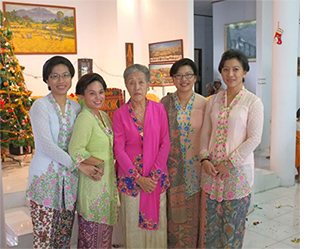 In my case, I was born into a family with conservative and traditional Indonesian values, where the common aim for women was to get married and have children. When I graduated from my bachelor's degree in the 1980s, I knew I wanted to study overseas. I checked the noticeboard at my university every day to see what opportunities were out there. During my third year, I started looking at scholarships to study in Australia, but my family insisted that I get married prior to studying overseas, so I applied for a scholarship and planned my wedding.
Read the full story here.