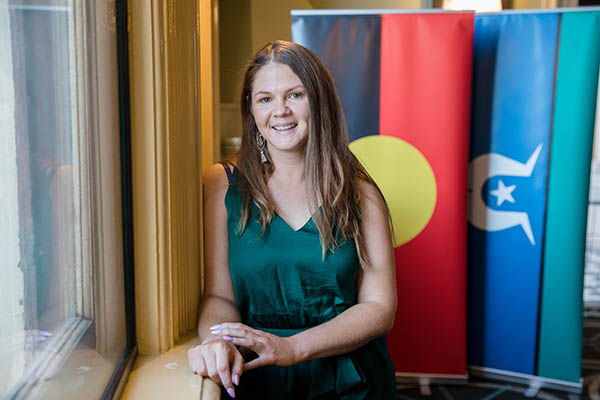 Recent graduate Dr Sherice Ansell is hoping to tread a path for the younger Indigenous community to follow into the medical field.
As Dr Sherice Ansell approached her graduation day, she took a moment to reflect on the inspiration that led her to start her journey in medicine.
Dr Ansell graduated from UQ as a Doctor of Medicine in December last year. Although she is the first in her family to attend university, she isn't the first to follow a passion for providing better health outcomes for the community.
Dr Ansell's father is a Ngangkari – a traditional Aboriginal healer – in Alice Springs, as well as an Aboriginal health worker.
His own experiences led him to encourage her to take the less traditional path.
"He knew that in order to make changes for our people, you had to have a western education," Dr Ansell said.
"I was also an Aboriginal health worker working with medical staff, but it's the doctor that makes the changes.
"You listen to whatever they say, and for a lot of Aboriginal patients that isn't necessarily the best thing because those decisions are coming from a place outside.
"My father told me if you do medicine, you will be in a better position to talk for your people."
But Dr Ansell said entering the unfamiliar university landscape came with its own challenges.
"I didn't know what university was when I went through high school," she said.
"It wasn't until I was rubbing shoulders with nurses and doctors as an Aboriginal health worker that I thought, I could do that."
With the support of UQ's Aboriginal and Torres Strait Islander Studies (ATSIS) Unit, Dr Ansell gradually adjusted to life as a student in a big city.
"The first two years were probably the most difficult because I moved away from home," she said.
"I was at the ATSIS Unit almost every day and the support was just awesome and made so much of a difference."
While studying at UQ, Dr Ansell participated in the PNG Health Project, a charity set up by fellow graduate and friend, Eve Golma.
"It was just the best experience and I saw so many similarities between Indigenous culture and PNG culture."
Dr Ansell said she eventually wants to return home to practice but will stay in Queensland, for the time being.
"I was attracted to the Rural Generalist program, which is Queensland-based and makes you a Rural Generalist with an advanced skill in some other area.
"For now, I've decided to go to Ipswich because it's a small hospital, and I just didn't feel like it was the right time to go home just yet.
"My goal is to come back to Alice Springs."
Dr Ansell said she was also thrilled to be an inspiration for the Indigenous children she came into contact with.
"You don't believe that you can become something if you don't see it," she said.
"By getting more Aboriginal doctors into the workforce, we can continue to inspire our younger Indigenous communities."
Learn how you can support Indigenous Scholarship opportunities at UQ.