Carl Friedrich Gauss, Recherches Arithmetiques
It appeared just another day of book-sorting when one of our dedicated volunteers came across a rare treasure. At the bottom of a cardboard box, cast aside and forgotten, was a first edition copy of Carl Friedrich Gauss' Recherches Arithmetiques. For those of us less mathematically minded, this name may mean nothing. Any keen mathematician, however, would be aware that Gauss was a monumental historical figure.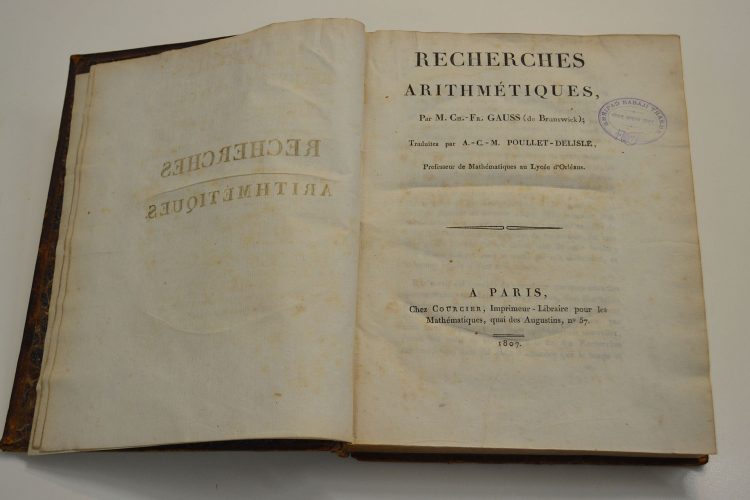 Born in 1777, Gauss made great developments to mathematics and science. The fields which he contributed to range from algebra to magnetism, and one of the greatest mathematic prizes is named in his honour – the "Gauss Prize". Gauss' work Recherches Arithmetiques was first published in Latin in 1801 under the name Disquisitiones Arithmeticae and translated into French in 1807. This work was central to the development of number theory and is greatly celebrated in the mathematical community. 
After some intensive research, only a few other first edition copies of Recherches Arithmetiques have been found worldwide. These are situated at university libraries including Oxford, Yale, and Harvard. Online booksellers have scarce copies, all listed for very high prices. 
How, then, did such a delight turn up in our donation box? A potential answer to this question lies on the title page of the book in the form of a stamp. On the stamp is the name "Shripad Babaji Thankur". Research into this name leads us to believe that it is linked to a man of Indian heritage who travelled to England in pursuit of his university studies. We understand that the book was donated to us from the estate of a Brisbane-based mathematics professor, who purchased the book in South Africa some years ago. This rich history of the book, going from the hands of an Indian bureaucrat, to an esteemed mathematics professor, and now to our humble organisation, only adds to the wealth of knowledge and history in its pages.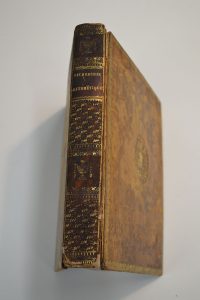 The Alumni Friends Rare Book Auction allows incredible publications such as Recherches Arithmetiques to continue to be recognised and celebrated.
In 2019, Alumni Friends donated the book to the Fryer Library collection, on the understanding that it would be placed on display at the School of Mathematics & Physics (following restoration funded by the School).
Ariane Ryan

Further reading:
Rice, Kathryn, Paul Scott. "Carl Friedrich Gauss," Australian Mathematics Teacher 61, no. 4 (2005): 2-5.
Goldstein, Catherin, Norbert Schappacher, Joachim Schwermer. The Shaping of Arithmetic after C. F. Gauss's Disquisitiones Arithmeticae. (2007). Springer: Berlin.