Adrian Heyworth-Smith Memorial Lecture: Roman emperors in the bedroom (online)
Friends of Antiquity Sunday Series - Adrian Heyworth-Smith Memorial Lecture
Date: Sunday 7 February 2021
Time: from 2pm
Location: Join us online. Please note: Unfortunately our in-person tickets are now at capacity. 
Topic: Roman emperors in the bedroom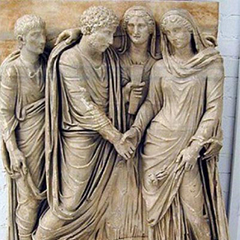 The morality (or otherwise) of prominent politicians is frequently a subject of media and general public interest, here in Australia as elsewhere. On the other hand, when politicians tell us how to behave, we tend to be unimpressed or indignant, especially when we feel that our private domain is being invaded. Yet many governments have attempted - and continue to attempt – to control how many children their citizens produce, whether through demographic, economic, or idealistic motives. 
In this talk Professor Tim Parkin will explore the case of imperial Rome in this context: how and why did Roman emperors legislate to make people marry and have children? Did they succeed? And can we learn from their example?
Professor Tim Parkin, The Elizabeth and James Tatoulis Chair in Classics, The University of Melbourne
Professor Tim Parkin joined the University of Melbourne in 2018 as the inaugural Elizabeth and James Tatoulis Chair in Classics. He is a New Zealander by birth who was awarded a D.Phil. at the University of Oxford as a Rhodes Scholar and who, since 1989, has worked in universities in New Zealand, Australia (he was professor of Classics at UQ from 2004 to 2006), Germany, and the United Kingdom. Tim's teaching has covered both ancient history and classical languages. His main research is in Roman social, cultural, legal, and demographic history. Among his publications are Demography and Roman Society (1992), Old Age in the Roman World: A Social and Cultural History (2003), Roman Social History: A Sourcebook (2007), and The Oxford Handbook of Childhood and Education in the Classical World (2014). He is currently working on, inter al., a book on ancient sexual health.
About Friends of Antiquity
Friends of Antiquity is a Special Interest Group of Alumni Friends, with the aim of supporting the UQ Classics and Ancient History Department. Maintained through a volunteer-managed program of engagement, funds raised are donated back to UQ students, researchers and educators. 
---
Health and safety information
Stay at home if unwell or have a cough, fever, sore throat, fatigue or shortness of breath
If you become unwell during the event please let an event organiser know.
Maintaining physical distancing requirements is the individuals responsibility
Please do not attend the event if:
You have been in close contact with a person who is positive for COVID-19
You are positive for COVID-19
You have travelled overseas or to a declared COVID-19 hotspot in the previous 14 days
Attendees are encouraged to download the Commonwealth Government COVID-19 app prior to attending the event.
At the event, you will be asked to sign-in using a QR code. If you do not have a smart phone please advise an event organiser.
---
About Alumni events
Our events will take place online or in person. Keep an eye out below for our evolving list of virtual events that you can attend wherever you are in the world.  
The Alumni Relations & Engagement team coordinates a range of events locally and internationally. You can keep up to date with UQ alumni events in your area by updating your details.