From a swashbuckling century by an English Test great to a visit by a West Indian star, Contact replays the highlights from the Tom Graham Playing Field's long innings.
It may not rank as the most important innings of his career, but the 4000 spectators who witnessed it will always remember former English Test batsman Allan Lamb's unbeaten century at Gatton's Queensland Agricultural College (QAC), now known as UQ Gatton, on 22 October 1986.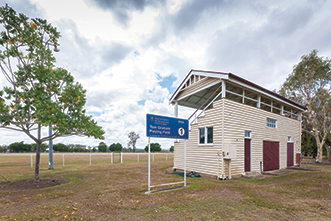 Lamb scored 111 not out for England during the 50-over match against South- East Queensland Country at the Tom Graham Playing Field, helping the tourists to a total of 9-245.
Lamb was not expected to play in the match because of a nagging knee injury, yet raced to 87 with one over remaining in the innings.
As some spectators climbed stockyards for a better view, Lamb reached his century in style, smashing 24 runs off the final over and ending the innings with a six that scattered a picnicking group.
The English side, which also featured Test stars David Gower, Chris Broad, John Emburey and Phil DeFreitas, went on to win by 58 runs. Simon Beattie starred for South- East Queensland Country scoring 28 not out and claiming four wickets for 50, including the prized wickets of Gower and Broad.
The friendly match was scheduled as part of England's 1986–87 tour of Australia, during which they won the five-Test Ashes series 2-1.
The Tom Graham Playing Field, formerly the No. 1 or Main Oval, was established in 1931 after months of labour by the student body, with the first turf wicket laid in 1932.
Its pavilion was originally positioned near the Courtney Rugby Oval before being moved to its current site in 1930 under the supervision of QAC Sports Master JS Wilson and staff member and former student Tom Graham, who the field is named after.
Graham undertook a Diploma of Agriculture at QAC between 1925–27 and excelled in athletics, cricket and football. He continued on at the College after graduation as an assistant Agriculturist and Agriculture Lecturer.
Graham was seconded to the Department of Agriculture and Stock in 1933 as an Agricultural Advisor and continued with the Department until he retired in 1971.
The field has played host to a range of functions and sports over the years.
During the US Army's occupation of the College between 1942 and 1944, it was used for staff accommodation and as a parade ground, while in 1947 a machinery and livestock display was held to mark the College's 50th anniversary.
The field also had a brush with fame on 29 September 1961, when West Indian Test cricketer Wes Hall visited the College and demonstrated his skills on the pitch with several QAC players.
QAC amalgamated with UQ in 1990 and its name was changed to The University of Queensland, Gatton College.
A decade later the name changed again to UQ Gatton following approval to develop the campus as an international centre of excellence in teaching and research.
Today the campus is internationally recognised as Australia's leading education and research provider in the fields of Animals, Agriculture, Veterinary Science, Food and the Environment.