A shared desire to try something new has seen alumni Michelle Chee and Shea Spierings make their mark on the international stage and represent Australia through their work with the United Nations.
Science Graduate Discovers New Path
When chemistry graduate Michelle Chee started her degree, she set her sights on becoming a cosmetic chemist. Four years later she was one of just five graduates to travel internationally as a trade delegate for the Queensland Government and later coauthored and edited several publications for the United Nations.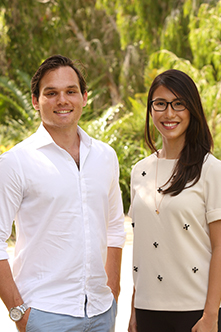 In her final year, Chee (Bachelor of Science '11) realised she had a strong desire to work outside the chemistry lab where she could work more with people.
"I was open-minded about different roles where I could leverage my degree and came across the cadetship with Trade & Investment Queensland," Chee said.
She spent three months in Bangalore, India (known as the Silicon Valley of the East), managing her own project for medical device project sponsor Cook Medical.
"I was a graduate without much professional experience at the time and I definitely felt like I had jumped into the deep end," she said.
While most of the applicants for the program were international business graduates, Chee said the medical company saw value in her science background.
Her impressive performance in India led to a full-time role at Cook Medical, where she became part of the Research and Development department's Asia-Pacific New Technologies team.
During this time Chee delivered the keynote address on new technologies at the Cook Medical company day to more than 350 people.
"It was an exciting moment to be able to share the future of the company's potentially game-changing technologies with staff."
Chee said another stand-out moment of her career was working for the United Nations.
"It was a dream of mine to work for the United Nations, so I accessed my UQ networks and was offered an introduction to someone who worked there," she said.
That led to a job as an intern in Bangkok, where she researched and edited several publications that resulted in her supervisor inviting her to co-author a book chapter on sustainability.
Throughout her career Chee has made time to volunteer as one of the inaugural members of the UQ Young Alumni Board.
"I was part of the Graduate Transition Committee which aims to engage with UQ's young alumni from the moment they graduate and help equip them for the workforce," she said.
"There will be many great events for young alumni in the future and I look forward to seeing the community grow stronger."
Chee is currently finishing her Master of Commerce at UQ and will be hosting a panel discussion at the Academy of Management in California later this year as a result of her published book chapter.
Tackling Youth Issues With Education
At the United Nations General Assembly in New York last September, UQ Arts graduate Shea Spierings presented a clear message on how to support Australian youth: education.
Spierings (Bachelor of Arts '14) was selected as the only Australian Youth Delegate to the United Nations in 2015.
Over the year he spoke with thousands of young Australians, with a particular focus on Indigenous youth, youth in the juvenile justice system, youth with disabilities, youth from rural and remote areas, and Muslim youth.
Two vivid memories stood out from his journey.
"One of my early visits was with a group of teenage women in South- East Queensland who had experienced homelessness," he said.
"Hearing about the serious issues they shared affected the way I conducted myself from that moment on.
"The other memorable moment was spending my 25th birthday visiting a juvenile detention centre in Adelaide."
Spierings said the key issues youth raised included drug and substance abuse, racism and discrimination, employment, mental health, and gender equality.
"I observed that many young people hadn't reached their potential, largely because of their limited education," he said.
"As a country, we could further explore education alternatives for youth who don't fit the mainstream mould."
Originally from Rockhampton, it took several years for Spierings to find his own pathway to university.
"I thought university was for other people, not people like me, as neither of my parents had finished high school and none of my friends aspired to study at university," he said.
"After school I found myself working in the pre-cast yard on the construction of Brisbane's Gateway Bridge doing physically demanding work in horrendous heat, working long hours, six days a week.
"It didn't take me long to realise I didn't want to make a career out of that job."
After that, Spierings worked in security and started studying at TAFE for 18 months until a knee injury prevented him from his goal of joining the army.
At that point, he decided to apply for university.
"I'll never forget sitting the STAT (Special Tertiary Admissions Test), hoping to add to my OP," he said.
"I received an OP of four and realised that I was capable of going to university and potentially doing well."
Spierings is now completing Honours in Political Science, while also developing a youth public speaking program and acting as a Deadly Choices Ambassador for the Institute for Urban Indigenous Health.