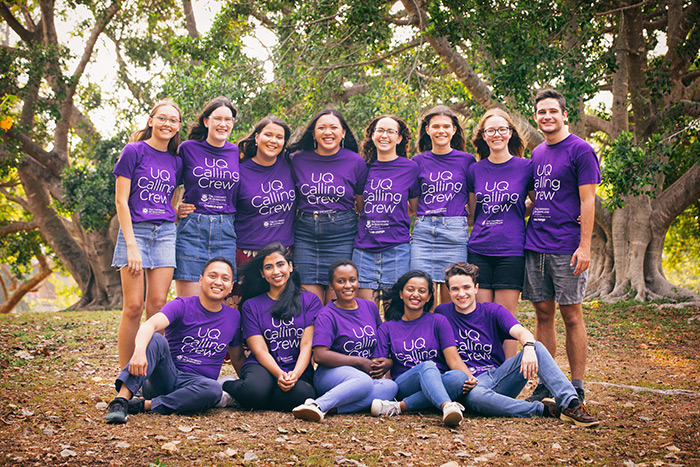 Why do I receive a call from UQ?
A phone call from students is our personal way of staying in touch with the UQ community. Last year we had over 5,000 conversations with alumni and friends in Australia and more than 600 people made a donation in support of the causes which matter most to them. 
Why do we call:
To thank you for being part of the UQ community
Learn about upcoming online events, volunteering and mentoring opportunities
Ensure we have the most up to date contact information so you don't miss out on news, publications and event invitations
Tell us your favourite stories from your time at  UQ and hear what our student callers say about their experiences
Give advice to our student callers and share the lessons you've learned
When are you calling?
This year's Telephone Engagement Campaign will run from August to October. The student callers will make calls during the day on Monday to Saturday and on weekday evenings.
What number are you calling from?
Calls will be made from UQ St Lucia campus from these phone numbers:
07 3737 2201
07 3737 2202 
07 3737 2203
07 3737 2204
07 3737 2205
Are the student callers paid?
Yes, our Calling Crew are paid an hourly rate for their work.
What if I don't want to be called?
If you prefer not to receive a call this time, please email us at giving@uq.edu.au 
Are my personal details safeguarded? 
UQ students taking part in the UQ Telephone Engagement Campaign are employed on behalf of the University to conduct calls to alumni and friends of UQ. There are strict policies in place for participating students to comply with as a student caller to ensure your personal details are safeguarded and remains confidential at all times. 
If you have any concerns or questions about the privacy of personal information you can learn more about privacy at UQ, by visiting https://www.uq.edu.au/rti/
If you'd like to receive a call in future telephone engagement campaigns, please contact us at giving@uq.edu.au 
Not sure whether we have the correct details for you?
You can update them online here. 
Who will be calling? 
Kevin
Holly
Lydia
Bertha
Tegan
Emily
Zoe
Nivethika
MaisyIsla
Cassia
Albert
Monisha
Jennifer
Imanda
Meghna
Gillian
Braelan
Aishwarya
Nicholas