Elizabeth (Betty) Robertson was awarded a 1st Class Honours in Classics (1931). In 1932 she received Honours in Philosophy, and won a scholarship to study in England. Although the scholarship was cancelled, due to the depression, Betty was able to travel widely in later life, and was a strong believer in the educational value of travel. 

In 1988 Betty was chosen as Patron of Friends of Antiquity a position she held until her death in 1990. For many years a great supporter of the Friends of Antiquity and a generous donor to the Antiquities Museum, Alumni Friends of The University of Queensland Inc and Friends of Antiquity agreed that a travelling scholarship would be an appropriate way to honour her memory. A travelling scholarship to enable a meritorious student to do what Betty had been unable to do was a fitting tribute to an excellent scholar, athlete, teacher and generous benefactor. An inspiration to all who knew her. 

Friends of Antiquity members continued to add to the fund, then managed by Alumni Friends, in support of the Scholarship. In planning for the closure of the Incorporated Association (2020), and its replacement by the Alumni Friends Society, funds previously managed by the Incorporated Association were donated to UQ, ensuring that the wishes of the donors and volunteers are honoured.

As part of this process, and additional Betty Fletcher memorial Scholarship was established in 2019—when the Friends of Antiquity Committee supported the donation of $50,000. This donation was matched by UQ, to establish the Betty Fletcher Memorial Undergraduate Scholarship to support students studying Classics and Antiquities, within the School, who are facing financial hardship.

In 2020, Alumni Friends donated $120,000 to ensure that the Betty Fletcher Memorial Travelling Scholarship, first awarded in 1992, would be awarded by UQ in perpetuity. It is noted that future donations may be received from individuals and the Friends of Antiquity.  

Both scholarships are endowed, but the funds remain open for additional donations which will increase the value of the award to the recipient.

About Betty Fletcher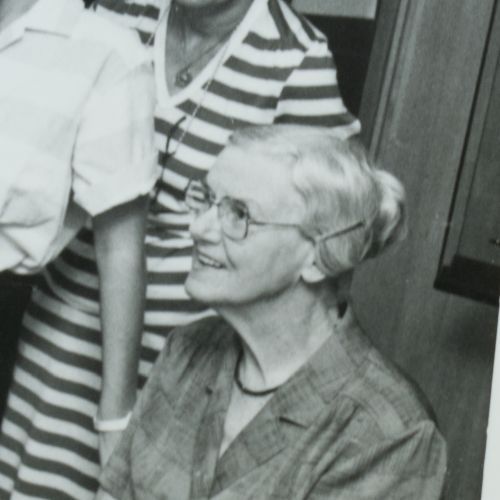 Betty Fletcher was an early member of the UQ Alumni Association, now called Alumni Friends, when it was formed in 1968. In 1988, Betty and her husband Owen were made Honorary Life Members. In the same year, Betty was appointed as Patron of the newly formed Friends of Antiquity group, a special interest group of Alumni Friends whose mission is to support the study of Classics and Ancient History at the University.
In 1932, Betty had won a scholarship to study at Oxford, but due to the Depression, the offer of free passage to England was withdrawn and she was unable to travel. After Betty's death in 1991, the Friends of Antiquity and Owen Fletcher established the Betty Fletcher Memorial Fund to maintain a travelling scholarship as a tribute to Betty's long association with the University, the Discipline of Classics and Ancient History, and the Antiquities Museum. 
Betty Fletcher scholarship recipients can be viewed here.
Give to the Betty Fletcher Memorial Travelling Scholarship
Give now
Give to the Betty Fletcher Memorial Undergraduate Scholarship

Give now
Alternatively, let us help you
If you would like to discuss your gift, please contact Advancement.
Telephone
+61 7 3346 3909 — Mon-Fri 9am-5pm (AEST)
Email
Mail
Advancement
The University of Queensland
Brisbane QLD 4072