Charles Kingsford Smith at the The UQ Alumni Book Fair® and Rare Book Auction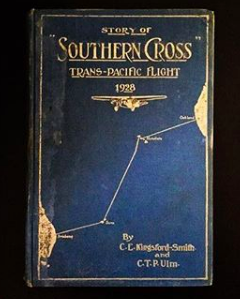 by Tom Campbell
Sir Charles Kingsford Smith, MC, AFC, is a looming, almost mythic figure on the landscape of Australia's cultural history. A decorated veteran in WWI – who served in Egypt, in France, and at Gallipoli before he was awarded the military cross – Kingsford Smith became arguably the most recognised pilot in Australian aviation. He embarked on countless journeys to demonstrate the potential of air travel, breaking records and earning himself a reputation the world over.
On the 31st of May, 1928, he completed the first flight from the United States to Australia. This earned the Brisbane-born Kingsford Smith great acclaim and an honorary rank with the RAAF. At the end of his trans-Pacific flight, he landed the Southern Cross – a Fokker Trimotor aircraft – at Eagle Farm Airport in front of a 26,000-strong crowd of fans and admirers.
Often, to finance his expeditions, Smithy would barnstorm with the Southern Cross in Australian towns. He would perform tricks, give demonstrations, and provide joy-rides for residents of the towns for a fee, giving every-day Australians the chance to experience their surroundings from the vantage point of the famous pilot. My grandfather was one such lucky customer. A primary school teacher in Inglewood, my granddad bought himself a flight with Kingsford Smith in the early thirties and I believe this flight remained a source of great pride for him for the rest of his life.
At The UQ Alumni Book Fair® 2019 Rare Book Auction, we're lucky enough to have a memento of the tremendous life and career of Charles Kingsford Smith. A 1928 publication written by Kingsford Smith and Charles Ulm – who flew with Smithy in the ground-breaking flight from America to Australia – is one of the lots of the catalogue at the Rare Book Auction. This publication documents the record-breaking flight, detailing the 84 flying hours the crew of four undertook to successfully complete the feat. Included with the publication is a note signed by both Kingsford Smith and Ulm, as well as famed motorcar racer, Norman Smith. It is a wonderful publication, with insight into a fascinating piece of Australia's past and of aviation history.