University of Queensland alumnus and Fulbright scholar Graham Akhurst has not only had the opportunity to work with some of the world's leading authors – he's also witnessed one of the most pivotal times in America's recent history firsthand.
When he first relocated to New York City with his wife Jordan in late 2019, Akhurst (Bachelor of Creative Arts '14, Bachelor of Arts (Honours) '15, Master of Philosophy '19) was excited to be starting a Master of Fine Arts at Hunter College.
He could not possibly have imagined what came next – a tumultuous series of events including being locked down in a pandemic-embattled New York City, the Black Lives Matter movement marching at his doorstep, and witnessing the Trump-Biden transition – all in quick succession.
"These events cannot help but change you. I am a writer and I know that these experiences have informed my work, but they have also informed how I move through life," Akhurst said.
Hailing from the Kokomini of North Queensland, Akhurst is the first Indigenous Australian recipient of the Fulbright W.G. Walker scholarship.
"I have considered what the opportunity of overseas study has meant to me and can mean for Australia at large, and it has cemented my resolve to shine an international light on Indigenous Australian literature.
"I have seen a real interest in Indigenous Australia through my time here.
"I found that I wrote with more freedom here, without the consistent reminder of the unique inequalities and history that Australia has with its first inhabitants."
Akhurst's time in New York has led to many valuable opportunities and memorable moments, such as giving a speech at the American Australian Association Arts Gala, where Peter Carey and Kylie Minogue were honoured for lifetime achievement.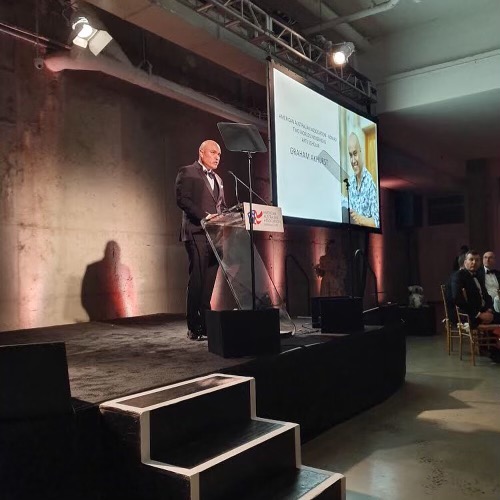 "The industry connections have been truly remarkable in NYC," he said.
"I will treasure always the gift of being able to work with and learn from writers who are among the greatest alive, as well as some of the brightest emerging writers. In my third semester, I had Peter Carey for the Workshop course and ZZ Packer for the Craft course.
"I also worked with Peter on my thesis pages – a novel of intersecting stories set in a fictional rural town of western Queensland, and managed to get my first American and fiction publication with Kweli Journal, and subsequently a role as a contributing editor."
Akhurst is excited about the future, not just because he has received a scholarship to the Skidmore writers' program and been accepted to the One-Story summer conference, but also because his debut novel – Borderland – is undergoing polishing touches before being scheduled for publication in 2022 though Hachette Australia.
"It has been a very long road with Borderland due to the fact that I developed as a writer during the editing stages," he said.
"However, through my time at Hunter I have also written a good chunk of my second novel, and hope to finish off a first full draft while I have this incredible gift of time over the coming six  to eight months."
He hopes to have a draft of his second novel ready by the end of the summer, so he can work towards signing with a NYC-based literary agent before he heads home to Australia.
When he arrives, Akhurst is eager to continue his writing and academic development, and give back to the community that have him so much to get started on his path to international accolades.
"I would like to further my formal education by enrolling in a PhD program in Creative Writing and also give back to the Australian writing community when I am in a place in my career to do so."
Prior to starting his MFA in New York, Graham completed three writing-focused degrees at UQ, and was part of the teaching team in UQ's Aboriginal and Torres Strait Islander Studies Unit.
"The ATSIS Unit was an integral part of my time and success at UQ," he said.
"To have a culturally-safe space to work and yarn in was very important to me as an Indigenous student."
"Some of my best friends were made in that space and some of my best work was created. The staff and academics through the Unit mentored me and helped me realised and develop that grain of potential that they saw in me.
"If it were not for their guidance, mentorship, and prodding, I wouldn't be where I am today."
---
UQ is celebrating NAIDOC Week from 4–11 July 2021. Find events, read more yarns and learn about UQ's Aboriginal and Torres Strait Islander community.
---