Since 2017, NRMA Insurance has partnered with UQ to support the resilience, professional development and creation of future opportunities for Indigenous university students through the NRMA Insurance Aboriginal and Torres Strait Islander Scholarship. The award includes financial support for the duration of the student's degree and a paid internship.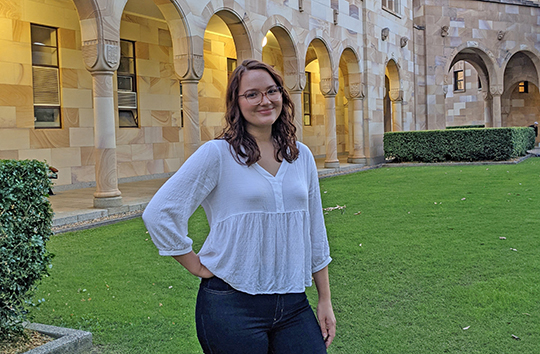 Kiara Bowater was only 17 when she headed from Gympie to the big smoke of Brisbane to begin a double degree in Arts and Science at the University of Queensland.
As she prepares to graduate at the end of this year, she reflects on some of the financial and educational hurdles she faced, and the support that helped her overcome them.
The Goreng Goreng/Kabi Kabi teen made up for missing her local family and community networks by linking up with UQ's Aboriginal and Torres Strait Islander Studies Unit. The Unit works closely with students, faculties and the wider UQ community to provide a range of professional services and academic support for UQ's Aboriginal and Torres Strait Islander students, from pre-enrolment through to graduation.
"I first attended one of the ATSIS Unit InspireU Education camps in year 12, followed by plenty of tutoring support in my first undergraduate year … I still engage in social and cultural events arranged by ATSIS Unit," Kiara says.
"I was really stressed about meeting the cost of living in share housing and Uni costs when I first relocated to Brisbane but I was overjoyed to secure an NRMA Insurance scholarship for my first three years; along with Abstudy and a UQ Link award it really helped me focus on my studies without any stress." 
"Thanks to NRMA Insurance I've been able to sustain good marks throughout my Bachelor of Science," Kiara says.
As she got further into her studies, Kiara realised she was passionate about Public Health and Microbiology, so she transferred to a Bachelor of Science in her second year. With her graduation approaching, she's already planning her next steps.
"As well as graduating at the end of this year, I hope to apply for a Bachelor of Health Science (Honours) … that would enable me to get some real-world research experience and maybe continue further into a health research career one day."
NRMA Insurance, Principal, Indigenous Engagement, Rebecca Hyland, says "we are so proud to hear about Kiara's academic achievements and are following her exciting journey to graduation".
"Education is critical to health, equity and access to employment and socio-economic outcomes in our communities and scholarships have great impact.
"We support Aboriginal and Torres Strait Islander communities through our Indigenous Engagement Strategy, which includes our Reconciliation Action Plan. This work is part of our Community Connection focus in our enterprise-wide Safer Communities Business Plan."