Barbara Blackman
Reviewed by Bronwyn Mitchell – Graduate Diploma of Arts (Writing, Editing and Publishing) student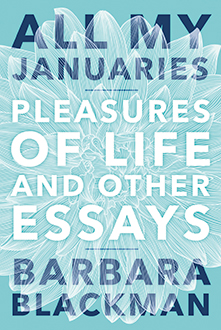 Growing up in Brisbane in the 1930s and 40s, writer and well-known patron of the arts Barbara Blackman routinely began each year with a new diary. Her annual burst of enthusiasm often waned before mid-year, but a lifetime of collected thoughts and experiences has woven themselves into this delightful anthology of essays.
In All My Januaries, Blackman offers vignettes from her school days, alongside poignant pieces on living with different types of loss: her twin sister Coralie survived in the world for only sixteen days, and optic atrophy caused Blackman to go blind in her early twenties.
Whether writing about her unusual number of grandmothers (six), being a torch runner for the Sydney Olympics, or having her poetry set to music, Blackman's prose is infused with the sights, sounds, and fragrances of the world around her, particularly of Queensland. The result is a memorable portrait of a life well lived.
Read an extract from All My Januaries.