Shelley Davidow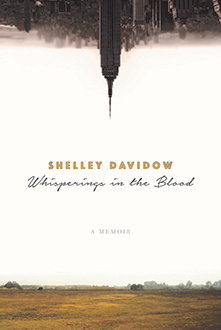 Reviewed by Hayley Baxter – Master of Arts (Writing, Editing and Publishing) student
In what might be described as a genealogical memoir, Shelley Davidow traces the zig-zagging lines of her family's travels across four continents, and down through four generations. Focusing on the life and times of her Jewish forebears in antebellum US and apartheid South Africa, Whisperings in the Blood tells the lesser-known tales of Jewish immigration in the twentieth century beyond the German holocaust. This is also a story of a different holocaust against a different people, and it is in the drawing of these squeamish parallels that Davidow's narrative is at the height of its power.
The scale of this story is extraordinary, and it is aptly rendered in a soaring, soulful style, that takes some liberties with fact and fiction. While a successful stylistic choice, nary a wart is exposed throughout, and characters ultimately appear so shiny and flawless they begin to feel photoshopped.
Whisperings in the Blood harks the clarion call for an end to intolerance towards immigrants, refugees and asylum seekers. Australia needs this book, and it needs it now.
Read an extract from Whisperings in the Blood: A Memoir.