It is ten years since the introduction of the UQ developed Gardasil® and Cervarix® vaccines, cutting the rate of cervical cancer-causing infections in Australian women by almost 90 per cent.
What is now classed as one of Australia's most well-known medical breakthroughs, Cervarix has been approved by the China Food and Drug Administration and has been in distribution through GlaxoSmith Kline China since 2017.
Gardasil was created from technology first developed by UQ researchers Professor Ian Frazer and the late Chinese virologist, Dr Jian Zhou, with the support of an international network of scientists.
The pair's vision to protect women against cervical cancer has resulted in more than 205 million doses of the Cervarix and Gardasil vaccines distributed in 130 countries, reducing the number of deaths by cervical cancer by around 250,000 each year. .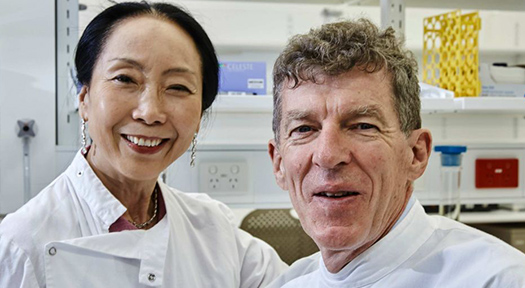 Dr Zhou studied medicine and surgery at Wenzhou University in China and in 1989 he met Professor Frazer at the University of Cambridge, where the pair first considered the problem of developing a vaccine for the human papillomavirus (HPV) – a virus that cannot be cultured without living tissue.
Frazer convinced Zhou to join him at the University of Queensland and in 1990 they began to use molecular biology to synthesize particles that could mimic the virus.
Aided by his wife and research partner, Dr Xiao Yi Sun, Zhou experimented with assembling two proteins to create a virus like particle resembling the HPV shell.
When introduced into the human body, the particles simulated an immunological response that formed the basis of the vaccine.
Tragically, Zhou passed away in 1999. He was a Lions Principal Research Fellow, and Head of the Papillomavirus Virology Unit at the Princess Alexandra Hospital in Brisbane. He had worked in universities around the world as a virologist, and was a prolific author with 40 peer-reviewed publications in top international journals and more than 10 major patents.