Sun, sand and surf. It's a way of life for many Australians, and alumni Tim Byrne and Carmen Ariotti are making sure everyone – no matter their ability – has the chance to experience it.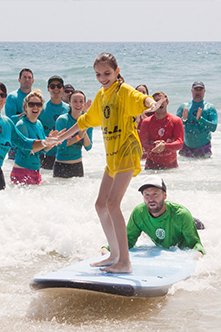 The Beach Boys described the magic of surfing perfectly with the lyrics "catch a wave and you're sittin' on top of the world".
That glorious feeling is the driving force behind the Disabled Surfers Association of Australia Inc. (DSAA), a volunteer group that allows people with disabilities a chance to experience the thrill of riding a wave.
"It's great to share the feeling of freedom the surfers get when they're gliding along on a board," DSAA Sunshine Coast Branch Secretary Carmen Ariotti said.
"With the sun on your face, salt water on your body, and surrounded by people who are exuding positive energy, it would be hard not to love it."
The DSAA was founded by Gary Blaschke in Sydney in 1986 after he was injured in a motorcycle accident and lost his kneecap. Initially established for injured surfers, it has since broadened its target group to cater for all disabilities.
There are now 16 branches across Australia and New Zealand, allowing disabled participants the chance to surf while under the supervision of trained team leaders and beach marshals.
Currimundi residents Ariotti (Bachelor of Arts '07, Bachelor of Laws (Honours) '07) and husband Tim Byrne (Bachelor of Arts '03, Bachelor of Education (Secondary) '05, Graduate Certificate in Education '07, Master of Educational Studies '08) have been volunteering with the Sunshine Coast Branch of the DSAA since they moved to the region in 2007. Byrne has been the President of the branch since 2012 and has a long relationship with the DSAA, having previously volunteered at events on the Gold Coast during his university days.
"We are a 100 per cent volunteer network with the prime focus of extending the experience of surfing to anyone who has a disability in their life," Byrne said.
"We will take between 30 and 60 people surfing at each event – from young kids to 80-year-old grandmothers – and we might have more than 100 people come along and help. While most of our volunteers are surfers themselves, we also have jobs for non-surfers."
As a special needs teacher at Caloundra's Golden Beach State School, Byrne has much experience with students with disabilities and learning difficulties.
He grew up in Bundaberg and was introduced to surfing through his father and brother, but it wasn't until he started university that he began surfing more regularly. Byrne arrived at UQ in 1999 to study a Bachelor of Arts majoring in English and psychology, before switching to education.
"Being exposed to the diversity of a campus like St Lucia was one of the greatest things that happened to me at that time in my life," Byrne said. "I was exposed to new ways of thinking and different cultures, which was really healthy.
"The path I took towards special education came through a subject called Psychology of Disability. During that subject I completed a placement at Mount Ommaney Special School, and it was through that experience that I developed an appreciation for disability work."
Ariotti works as a legal officer at the Department of Justice in Brisbane. She arrived at UQ from Toowoomba in 2002 and said she made some lifelong friends at university – including her husband, whom she began dating in 2004.
"Tim's family and my family had known one another for years, so when I saw him from a distance one day near the Great Court, I went over and said 'hi'," Ariotti said.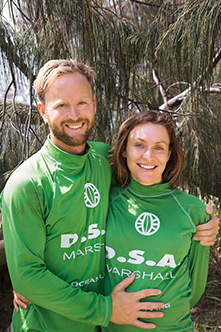 The couple married in 2007 and welcomed their first child, Heidi, in February this year.
"I was introduced to surfing, and the DSAA, through Tim. Living in Toowoomba made learning to surf a bit tricky, but now I've become a surfer and we both enjoy it," Ariotti said.
"Volunteering for the DSAA is equally as enjoyable. You can see that the volunteers are having just as much fun as the surfers, and the fact that they're helping someone have an experience they clearly love adds to it tenfold."
For Byrne, the greatest reward is seeing the reaction on the faces of the surfers when they catch their first wave.
"Most don't get to surf without the help of the DSAA, so seeing the reaction on their faces is really special," Byrne said.
"A lot of the time you hear parents say that they never dreamed their child would be able to ride a surf board, and that's quite emotional."
For more information about the DSAA, visit disabledsurfers.org/qld/sunshinecoast-branch or contact Tim Byrne at sunny.prez@disabledsurfers.org.