UQ alumnus Jackie Narracott has travelled over grass and ice to realise her Olympic dream. She sat down with Contact to reflect on her Winter Games debut earlier this year and revealed what it's like to risk life and limb for sporting glory.
---
It's freezing cold at the top of the mountain and the icy wind cuts through Jackie Narracott's green and gold uniform. Although it's just a thin layer of lycra, in this moment there's nothing else she would rather be wearing.
It feels like she's waited all her life to wear this Australian uniform.
There's no time to worry about the cold anyway. All she's focused on are the corners and slope of the sleek track in front of her.
She's nervous, and understandably so. It's her first Winter Olympic Games in arguably one of the world's most dangerous sports – the skeleton – and she's about to throw herself head first down the ice at speeds of up to 125 kilometres per hour.
"This is where the fear factor kicks in," the UQ alumnus (Bachelor of Exercise and Sports Science '11) told Contact.
"It's usually when you're not prepared or when it's your first time at a track.
"The nerves are always there because you know that you need to be on your game. If you're not, it's probably going to hurt."
Narracott's Olympic dream came true in February this year when she represented Australia in the women's skeleton event at Pyeongchang in South Korea.
The 27-year-old finished 16th overall and, despite being disappointed with her performance, is still pinching herself.
"It's so surreal. Competing was a phenomenal feeling and it still feels like a dream."
"I can pinpoint the mistakes I made and have questioned whether I was prepared as well as I could have been, but the girls who beat me were all at the top of their games.
"So while it wasn't the result I wanted, I couldn't have done much more. At the end of the day, I'm an Olympian and I don't think that will sink in for a while yet."
Narracott originally thought her Olympic dream would be fulfilled at the Summer Games.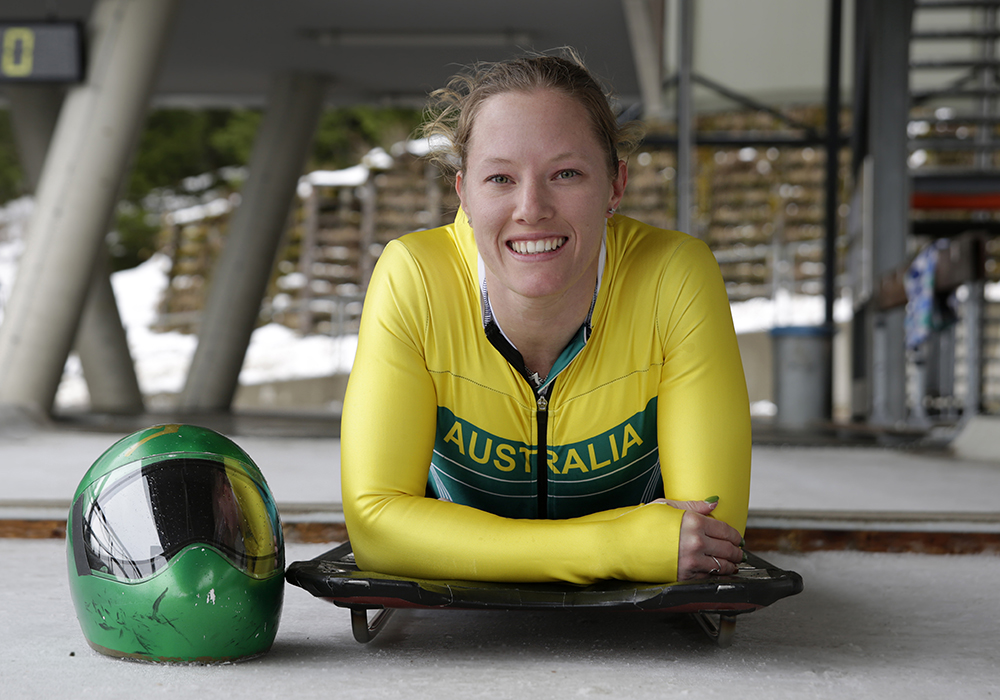 The Brisbane-based athlete was a sprinter and long jumper, but was drawn to the cold-climate arena through her uncle and fellow UQ alumnus, Paul Narracott.
Paul Narracott made history as the first Australian to compete at both a Summer and Winter Olympics, running in the men's 100 metres and 200 metres at the Los Angeles Games in 1984 before participating in the two-man bobsleigh at Albertville in France in 1992. He also received a UQ Blue award for his athletics achievements while at UQ in 1984.
Jackie Narracott joined the Australian bobsleigh squad in Europe in 2011, where she met the national skeleton coaches who convinced her to make the switch in 2012.
She made her skeleton World Cup debut in 2014 and her best result to date has been a seventh-place finish at the Lake Placid World Cup in January 2016. She has had several top-10 finishes at North American Cup events, including winning silver in Calgary in November 2016.
"I wanted to be an Olympian ever since the 2000 Games in Sydney," she said.
"But it was getting to the point where I knew I probably wasn't going to achieve my Olympic goal in track and field.
"My uncle was a bobsledder and I'd always wanted to try the sport. I had heard the stories about his achievements when I was growing up and I wanted to emulate what he did."
Narracott splits her training schedule between Brisbane and parts of the northern hemisphere and said her athletics background had been valuable in helping her adapt to the skeleton.
"Speed and power is everything at the start of a run. A lot of skeleton athletes have track and field backgrounds." 
"I spend about half the year in Brisbane doing speed and strength sessions, plus video analysis. When I'm away on tour in the northern hemisphere, I'm sliding five to six days a week."
The skeleton was first adopted as a formal Olympic event in 1928, but was banned after 1948 because it was deemed too dangerous. It was reinstated in 2002.
The course length and inclination varies, with tracks ranging from 1200 to 1500 metres long. The average track inclination is between eight and 15 per cent.
"Every track in the world is different. Whistler is the fastest because it's the steepest and there aren't many uphill sections," Narracott explained.
"The track wasn't as steep in Pyeongchang. I was travelling about 125 kilometres an hour during my Olympic runs. If I was competing in Whistler, I would be travelling at more than 135 kilometres an hour.
"I've had a few bruises, concussion and ice burn, but I've been lucky. Thankfully I've gotten better over the years."
Narracott is currently enjoying a well-earned break from the ice, but is setting her sights on the World Championships in February next year – in Whistler.
"It's an intimidating track, but I'm really excited to get back into training."
Fellow UQ alumnus Pita Taufatofua also competed at his first Winter Olympics this year, representing Tonga in cross-country skiing.
Taufatofua finished 114th in the 15-kilometres endurance race but it was a remarkable achievement, with the 34-year-old learning the sport in just 12 months.
Taufatofua represented Tonga in taekwondo at the Summer Olympics in Rio de Janeiro in 2016. He made headlines as the nation's shirtless flag-bearer in the opening ceremony and risked frostbite when he repeated the performance in Pyeongchang.
Main Image: Veisturs Lacis
Join the conversation
Your comments here are governed by Facebook Terms of Service and UQ Social Media Terms of Use.