By Tess Livingstone
The UQ community is mourning the death of esteemed UQ graduate and one of Australia's most innovative cardiologists, Dr James Cameron.
Dr Cameron (Bachelor of Medicine / Bachelor of Surgery '76), one of the pioneers of stenting and angioplasty in Australia, died at his Brisbane home on 18 January, a few days after his 67th birthday. He had battled an aggressive brain tumour since August last year.
Family, friends, colleagues and grateful patients packed the Long Room of Brisbane's historic Customs House on 28 January to pay tribute to his generous, extraordinary life.
At his memorial service, his wife, general practitioner Dr Margaret Cameron (Bachelor of Medicine / Bachelor of Surgery '76), recalled their first meeting during Orientation Week at UQ in 1971.
Jim, she said, was deeply tanned and had blonde hair after a summer of surfing at Burleigh Heads, after finishing Year 12 as Dux of Brisbane State High School in 1970.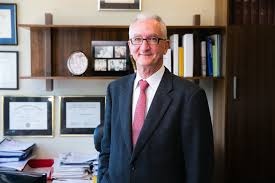 Their UQ year was a class of high achievers, including QIMR Berghofer Medical Research Institute senior scientist Professor Adele Greene (Bachelor of Medicine / Bachelor of Surgery '76, Doctor of Philosophy '84); ear, nose and throat surgeon Dr Chris Perry OAM (Bachelor of Medicine / Bachelor of Surgery '76), who has led the way in tackling ear diseases among Indigenous children; and cardiologist Dr Wayne Stafford (Bachelor of Medicine / Bachelor of Surgery '76).
Dr Stafford, who was in partnership with Dr Cameron at the Queensland Cardiovascular Group at St Andrew's Hospital, also spoke at the service, as did four of the Camerons' five children. Dr Cameron was also survived by three grandchildren – Harry, Eamon and Gracie, with a fourth on the way.
Decades ago, Dr Cameron's postgraduate studies at Tufts New England Medical Centre in Boston and at Stanford University Medical Centre in California, where he was a Fulbright Fellow from 1984 to 1986, paved the way for thousands of Australians to be spared open-heart surgery.
Instead, they were able to be treated with less invasive techniques such as the insertion of a stent to open narrowed arteries, performed with a simple needle puncture. Numerous patients whose lives were changed decades ago and who are now aged in their 70s, 80s and even older attended the service, as did many younger patients. Without exception, they recounted his calm, unassuming, modest and gentle manner.
"He was easy to talk to and made you feel reassured,'' the wife of one patient, now in her 80s remembered. 
As the elected president of the Cardiac Society of Australia and New Zealand from 2010 to 2012, Dr Cameron helped set standards for the profession and represented cardiologists to the Australian government. He also examined young doctors applying to become cardiologists and physicians.
Since 2013, he had played a key role in the Heart of Australia initiative, which has given 8000 patients so far access to heart checks and basic procedures on well-equipped trucks that traverse the far reaches of Queensland – from Charters Towers, west of Townsville, to Goondiwindi, south-west of Brisbane.
Cardiologist Rolf Gomes, the driving force behind the project, told The Australian recently that about 300 to 350 of the people examined so far were "very lucky to be alive'' because they were examined under the program.
Heart of Australia has three trucks so far and is planning to expand into NSW and as far north as Weipa and Palm Island.
"Jim played a vital role in getting junior and senior cardiologists behind the program and to work on the trucks,'' Dr Gomes said.
"He was a wonderful mentor and very attentive to helping younger specialists.''
Dr Stafford said that at the time Dr Cameron's illness was diagnosed, he was heavily involved in developing a national register to monitor the success of cardiac treatments across the nation. That register will help inform 'best practice' in cardiology procedures in the future.
The Cameron family has a long association with UQ, with three of the family's five children following in their parents' footsteps at the University.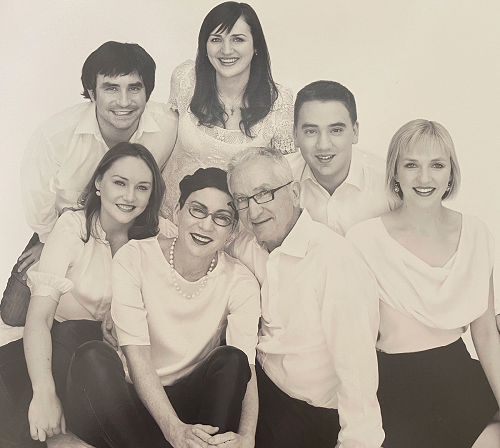 Emma Cameron, a Brisbane lawyer, completed her Bachelor of Arts and Bachelor of Laws degrees at UQ. Dr Madeleine Cameron, a specialist in geriatric medicine, completed a Bachelor of Science (Biomedical) as well as a Bachelor of Medicine and Bachelor of Surgery at UQ. Gordon Cameron, who died in 2018, had a Bachelor of Engineering, a Master of Engineering and a Master of Business Administration from UQ.
Their siblings, lawyer Naomi Cameron and property economist Hamish Cameron, are QUT graduates.
Outside his work, Dr Cameron loved travelling with his family, collecting fine wine and enjoyed making cheese.
"Jim was of the old school, he enjoyed a balanced life with a healthy diet and exercise but he also enjoyed the good things in life,'' Dr Stafford said.
Dr Cameron was also a prolific reader of fiction and non-fiction and a fan of Ian Fleming's James Bond novels.
His bedside table was always packed with the signs of his full, extraordinary life, with biographies; fiction books and articles on medicine, travel and wine; and dozens of cards written to him by his children and kept for many years. 
In lieu of flowers, Dr Cameron's family has suggested that supporters offer a donation to Heart of Australia.
Tess Livingstone is a UQ graduate and works for The Australian newspaper.