Queen's Birthday honours: Professor Jeffrey Lipman
Contact magazine is celebrating the outstanding UQ scientists recognised during this year's Queen's Birthday honours. In this story, we feature Professor Jeffrey Lipman from the Faculty of Medicine.
"As a clinician, you are always wanting the best for your patients, and when you see good outcomes, it often makes all the hard work worthwhile."
---
In his 40 years as an Intensive Care Unit (ICU) specialist, Professor Jeffrey Lipman has helped countless patients achieve good outcomes and leave hospital in much better shape than they arrived.
Having recently stepped down after 23 years as Director of the ICU department at the Royal Brisbane and Women's Hospital (RBWH), he led a team that provided world-class care to critically ill patients, while his significant body of research has seen him help many more patients worldwide by changing the way ICUs administer antibiotics to improve patient outcomes. 
In June, Professor Lipman's significant service to medicine, anaesthesiology, critical care and education was recognised when he was awarded a Member of the Order of Australia (AM) as part of the Queen's Birthday Honours.
Professor Lipman said the award was like an acknowledgment of all the rewarding aspects of his career.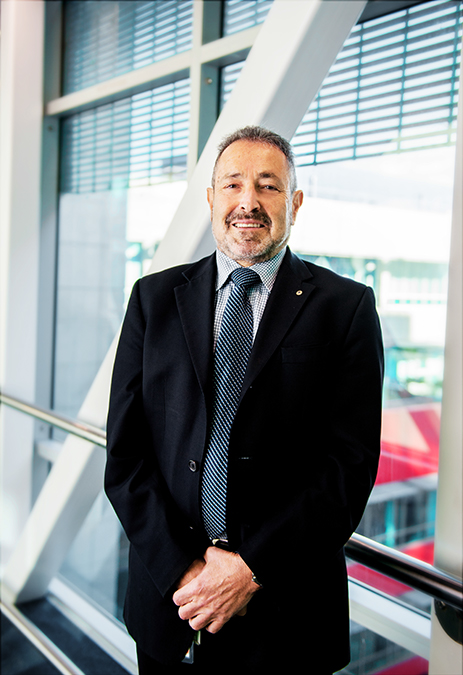 "Seeing a patient who was critically ill, who you spent hours with agonising on exactly how much fluids to give, how long to use antibiotics for, when to call the surgeons back to relook at wounds, seeing the patient immobilised on a ventilator for weeks, and then come back to the ICU months later to visit (and thank all the staff) is a special feeling," he said.
"As a leader within the healthcare environment, developing staff's individual aspirations and strengths and seeing how they progress is always rewarding.
"As a researcher, collecting data and subsequently getting manuscripts into publishable forms, and then getting them accepted, is part and parcel of an academic's life but one that I still find rewarding. Seeing your PhD students progress and create their own niche is gratifying in its own right.
"The Queen's Birthday award is a different dimension. It's like all the above coming together into one special acknowledgement and recognition of years of work and dedication to my patients and profession."
Originally specialising in anaesthetics, Professor Lipman's interest in intensive care work was sparked when he was sent to work in a rudimentary ICU as a young anaesthetic resident in South Africa in 1975.
"I soon realised that I liked intensive care work much more than anaesthesia, and have been working in ICUs full-time since July 1978."
Professor Lipman moved to Australia in 1997 and shortly after was appointed Director of the ICU department at the RBWH, as well as Conjoint Professor at UQ. He has led the discipline of Anaesthesiology and Critical Care in UQ's medical program since 1998, and in 2009 established UQ's Burns Trauma & Critical Care Research Centre. 
Coming from South Africa where there was a "relatively seamless system' between universities and government-run hospitals, Professor Lipman was always keen to focus on both the professional and academic aspects of his career.
"I have always had the philosophy that there should be better integration between 'town and gown', hence my work across Royal Brisbane and Women's Hospital (RBWH) and UQ."
Throughout his career, Professor Lipman has received numerous awards, including the President's award for outstanding service to Southern African Critical Care in 2000, election to the Australian and New Zealand Intensive Care Society (ANZICS) Honour Roll in 2011, and election to Fellow of the Intensive Care Foundation in 2015 (only the second person to receive this award).
His research into infection management in intensive care and antibiotic usage in acute situations saw him named Metro-North Hospital and Health Services 'Researcher of the Year' in 2017, and included in the 2018 Clarivate Highly Cited Researchers List.
In 2020, in addition to his Queen's Birthday honour, Professor Lipman was also presented lifelong Honorary Membership of the European Society of Intensive Care Medicine – only the second Australian to receive the award.
When looking at the impact of his research, it's not hard to see why Professor Lipman is so highly regarded by his peers. His research has changed world practice in ICUs by improving dosing strategies of aminoglycosides and, more recently, beta-lactam antibiotics, with his South-African-based study the first to document the benefit of single daily aminoglycoside dosing and still the largest such study to date.
"Under-dosing of antibiotics allows growth of subpopulations of resistant bacteria, which may then cause resistant infections in the critically ill," Professor Lipman explained.
"We have now repeatedly shown under-dosing when 'standard' (ward-based) antibiotic dosing is prescribed in ICUs.
"I am pleased to know that our research means more patients in ICUs worldwide are getting more optimal antibiotic therapy."
Professor Lipman joins fellow UQ researchers Professor Perry Bartlett, from the Queensland Brain Institute; Professor Tamara Davis, from the School of Mathematics and Physics; Professor Ranjeny Thomas, from the Diamantina Institute; and Professor Kaye Basford, from the School of Biomedical Sciences, in receiving Queen's Birthday honours.
---