Dr Vince FitzGerald AO's upbringing informs his entire worldview – including his philosophy on giving back.
"I was raised to believe that if someone does you a kindness, you have an obligation to repay that kindness," Dr FitzGerald said.
That's why the eminent University of Queensland alumnus and former senior Australian Government official has pledged $220,000 to establish a scholarship for high-performing School of Economics Honours program applicants.
Dr FitzGerald credits the program for kickstarting his own illustrious public policy career, and is determined to do what he can to help other students with the same ambitions.
From 2019, the $10,000 per year FitzGerald Scholarship will be awarded annually to an outstanding Honours applicant looking to specialise in applied economics and econometrics.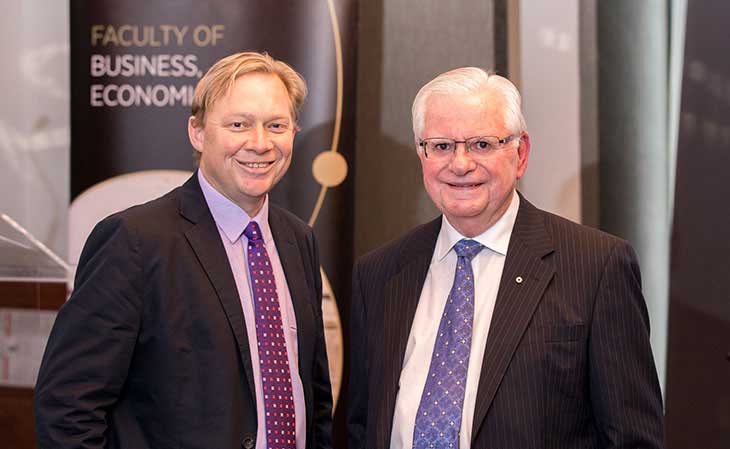 Dr FitzGerald said the scholarship was inspired by his experience as an Archibald Scholar during his Honours year.
"Receiving the Archibald Scholarship allowed me to put most of my time into Honours instead of working constantly to survive," Dr FitzGerald said.
"With the FitzGerald Scholarship, I want to ease the financial burden for students interested in applying econometric tools to real world problems, as I was in my time."
School of Economics' Head of School and Academic Dean Professor Daniel Zizzo said the scholarship would encourage students to pursue meaningful public sector careers.
"Our Honours program has produced many of Australia's top economic policy makers, who have benefited from our challenging curriculum and internationally respected teachers and researchers," Professor Zizzo said.
"The FitzGerald Scholarship will allow Honours students more freedom to chase their passion in this arena, just as Dr FitzGerald did.
"Dr FitzGerald is a great role model of public service. I am sure our FitzGerald scholars will follow his example, and use the knowledge, expertise and economic tools learned at UQ to help shape public policy and better the lives of others."
Dr FitzGerald graduated from UQ in 1969 with a Bachelor of Economics (Class I Honours) and a University Medal. He went on to earn his PhD from Harvard University, and later received a Doctor of Laws honoris causa from Monash University and a Doctor of Economics honoris causa from UQ.
His distinguished career spans over four decades in both the public and private sectors.
Over the years, he has provided valuable economic policy advice as a senior Australian Government official in the Departments of the Treasury, Prime Minister and Cabinet, Finance, Trade, and Employment, Education and Training.
As a consultant, he has continued advising on public policy, including playing a pivotal role in the development of the Australian Government's compulsory superannuation scheme.
Dr FitzGerald is currently a director of EFTS Management (AUS), ACIL Allen Consulting and the Australian National University Tuckwell Scholarship Foundation. He is a trustee of several charitable foundations, a member of the advisory committee for the Centre for Health Policy, and a member of the CEDA Council on Economic Policy.
In addition to the FitzGerald Scholarship, he recently contributed $80,000 to the School of Economics' Archibald Scholarship fund.
Dr FitzGerald said he strongly believed in maintaining a personal connection to UQ and giving back however he could.
"Anyone who benefits from the fine education they receive at UQ should give back, at whatever time in life they're able to do so," he said.
"Philanthropic support will become more and more important as government funding for universities continues to decrease or be limited."
But Dr FitzGerald said there were plenty of other ways that alumni could contribute.
"One of the best things you can do is to let employers know that you honed your skills and expertise at UQ," he said.
"You can also serve on committees, mentor students and help organise alumni events."
The FitzGerald Scholarship is available to Honours applicants from 2019. It will be maintained by an endowment fund, which is open to further gifts.
More information is available online.