The UQ SmartHarvest team were recently announced as one of seven finalists in the 2020 Global Business Challenge. This year's theme of the 2020 Global Business Challenge is to 'develop novel and sustainable solutions to aid in resource recovery and promote the circular economy'. The winner of the Global Business Challenge will receive up to AUS$100,000 in prize money.
The submission to the competition by the UQ SmartHarvest team will help farmers estimate current and upcoming demand. Through using SmartHarvest, farmers can access demand data, giving them the necessary information to make strategic business decisions, including what other farmers are currently growing.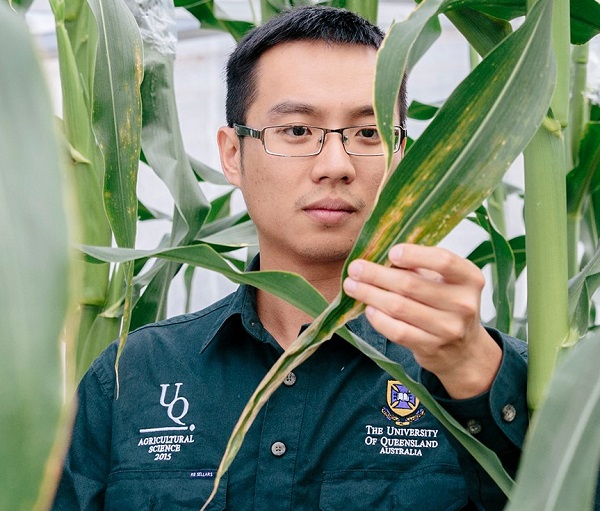 UQ alumnus, Dr Zhong Xiang Cheah (Bachelor of Agricultural Science Hons 1 '15, Doctor of Philosophy '20) is part of the SmartHarvest team that created the solution. He explained why the team chose this particular challenge.
"Vegetable farmers in Australia do not have access to demand data including what other farmers are currently growing. For example, without data, too many farmers may grow broccoli while not enough farmers will grow tomatoes," Cheah said.
"The excessive supply of vegetables will then be wasted and this will impact greenhouse gas emissions. Additional resources such as water, electricity, fossil fuel, fertilisers and chemicals are also unnecessarily used to produce crops that will never be consumed. Meanwhile, the lack in tomato supply will cause prices to rise."
Cheah said the 2020 Global Business Challenge theme to 'develop novel and sustainable solutions to aid in resource recovery and promote the circular economy,' influenced the team to consider the impact of the oversupply and wasted of crops.
"Around 30 per cent of all global food produce is wasted in the supply chain alone, contributing to eight per cent of greenhouse gas emissions. Not to mention 20 per cent of groceries end up as food waste, costing an average Australian household approximately $3,800 and the Australian economy $20 billion annually," Cheah said.
The team's diverse background in agriculture, accounting, IT, supply chain management, visual art design, marketing and business administration created the synergy needed for their team to succeed.
Cheah's SmartHarvest team mates include, Lusi Ou, Xin Gao, and James Nguyen - with assistance from coach Silvie Ketelaars. Cheah says it was during the hackathon that the team's chemistry developed and their ideas were first tested.
"One of my biggest learnings working on SmartHarvest has been working with people from different backgrounds and disciplines," he says.
"Each team member brings a different set of values, style of thinking and approach to problem solving."
Cheah was sponsored by JPA (Malaysia) to study his undergraduate degree at UQ, and later obtained a scholarship from the UQ Graduate School for his PhD in agriculture.
"Through studying at UQ, I have gained great exposure to opportunities, different cultures, and have broadened my horizons, including the Ventures PhD and Postgrad Unlimited program. This helped introduce key entrepreneurial concepts and an overview of the startup journey."
The Global Business Challenge
153 teams representing 48 institutions from across 23 countries registered to compete in the 2020 Global Business Challenge hosted by The University of Queensland, with university partners QUT, and Griffith University.
UQ team SmartHarvest joins six global student teams in the Virtual Final Round, 27-30 October 2020.
Keep an eye out as the winning team will be announced and awarded A$100,000 at the Gala Dinner event later this month on 30 October. 
The Global Business Challenge was established as a global competition for postgraduate students to apply their intellect and expertise toward developing solutions to global challenges.