By Zoe McDonald
---
For poet Ellen van Neerven, their second collection, Throat, was the opportunity to be entirely fearless in their storytelling.
This fearlessness was explored in depth at a University of Queensland Press (UQP) 'In Conversation' event with van Neerven, UQ alumnus Quentin Bryce AD CVO, and fellow alumnus and Associate Dean (Indigenous Engagement) for the Faculty of Humanities and Social Sciences, Associate Professor Sandra Phillips, who moderated the event.
During the event, van Neerven, who received the inaugural UQP Quentin Bryce Award in March, also recited some of their work, including Chermy and The Last Apology.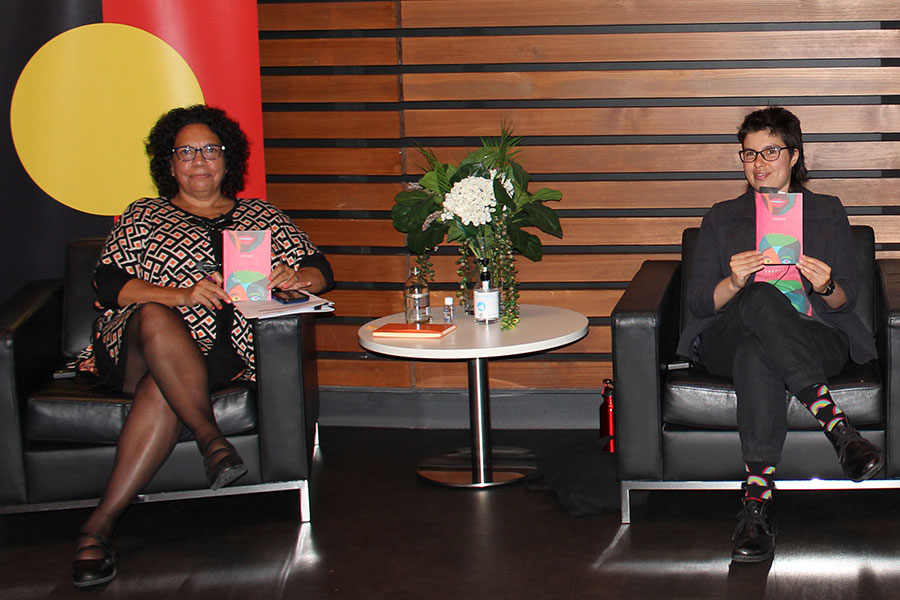 Throat is an intimate investigation of identity and, in particular, the intersectional experiences of gender, sexuality and what it means to be a First Australian.
"Whiteness is always approaching / guilt makes people interesting / I found out Indigenous Studies has nothing to do with me."

– 'Throat', by Ellen van Neerven
At times, it is terribly painful; van Neerven writes with heavy emotion about the discrimination Indigenous Australians continue to face, including the ongoing trauma caused by invasion, the Stolen Generation and land rights disputes.
"They burnt records of us in fires, they stole the evidence of our survival. But check my blood, I'm from here."

– 'Throat', by Ellen van Neerven
During the conversation with Bryce and Phillips, van Neerven described how Throat was, aptly, where they had found their voice to speak out about topics that mattered to them.
"I've found through writing this book that healing can come from the smallest and most unexpected places," van Neerven said.
"For me, [Throat] is about voice and truth-telling and saying things that I might be scared to say – [I think that] if you feel unsure about it, that's always the sign that you're doing something right.
"Sometimes, you feel ready to say something that you haven't been able to say for a while."
The UQP Quentin Bryce Award celebrates women's lives and gender equality in a fitting homage to its namesake, whose passion for law – at a time when the industry was traditionally dominated by men – meant being a woman of 'firsts' was an occupational hazard.
Bryce was one of the first women admitted to the Queensland bar, the first woman appointed to UQ's Faculty of Law, and – most famously – the first woman to hold the office of Australian Governor-General.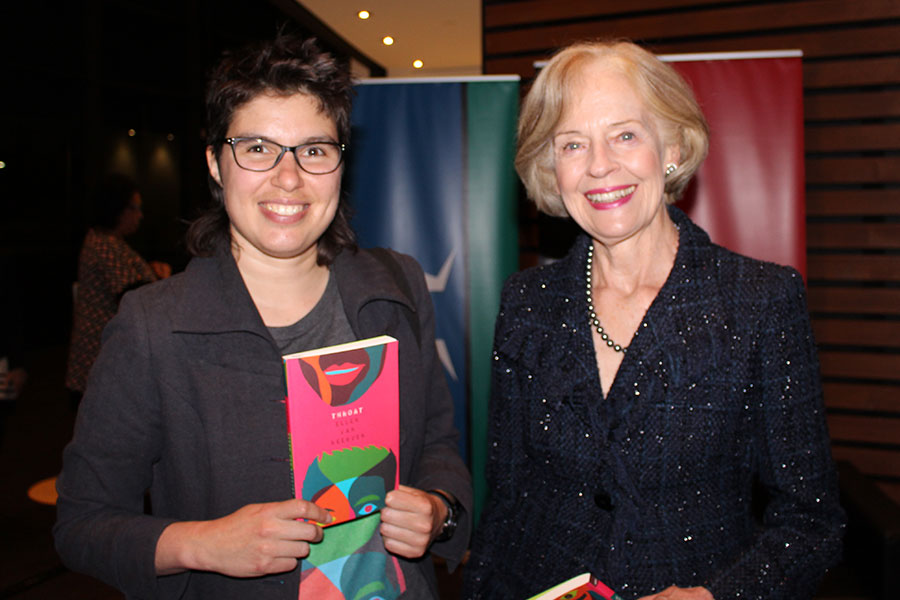 There is little doubt Bryce has blazed many trails for the bright young minds who followed her, and she expressed her immense pride at having van Neerven – who is busy blazing their own trails in the literary world – as the first recipient of the UQP Quentin Bryce Award.
"[Throat] holds beauty, lyricism, tenderness, haunting music and memories. But, at once, is tough, powerful, arresting," Bryce said during the event.
"[Ellen's] political voice has a vitality and a rhythm that resonates with the poetic lines of the Uluru Statement from the Heart: it's a generous invitation to walk together to all Australians, for voice, treaty, truth."
van Neerven's political voice can be put down to the dog-eared volumes of Oodgeroo Noonuccal and Judith Wright sitting in their bedroom, and which served as an enduring influence for Throat. They also repeatedly draw on memories and learnings from being raised by strong Aboriginal women.
Bryce said the sentiment of connection, family and community "sparkles" in van Neerven's work, and appeared as the source of "their strength, confidence and courage."
"This stitching of care between generations pulls us all in."

– 'Throat', by Ellen van Neerven
For van Neerven, Throat was not only about being fearless through words, but fostering change through conversation and literature.
"Sometimes I wonder if I'm making a difference, and I think I should be working in mental health, or working on prison abolishment,' van Neerven said.
"But I've always seen literature as a place of opportunity, and so I feel like that's where I've found my voice.
"I'm so inspired by the young generation as they inherit these freedoms and this voice that, potentially, we didn't have when we were growing up.
"So, I'm following the footsteps of so many people, but also hope to leave footsteps for other people to follow – even people who are yet to be born."
This event took place on Turrbal and Jagera lands, and we pay our respects to their Ancestors and their descendants, who continue cultural and spiritual connections to Country.
---
Discover the exciting world of Australian literature through UQ Book Club, a partnership with UQP.
---