If you're at St Lucia on Giving Day, join us at the Great Court for a preview of our new Philanthropy Trail, where you'll see the amazing impact that donors have had around campus!
Designed to provide permanent recognition of the philanthropy which has impacted all of UQ's campuses, the trail will feature around 50 sites of philanthropic significance when it is rolled out over the coming weeks. For a special preview of the sites in the Great Court vicinity, meet us at the marquee under Forgan Smith Tower in the Great Court.
Tours will depart at 12pm, 1pm and 2pm. Each tour will take about 15-20 minutes.
No registration is required. The meeting point for the Giving Day Philanthropy Trail is displayed below.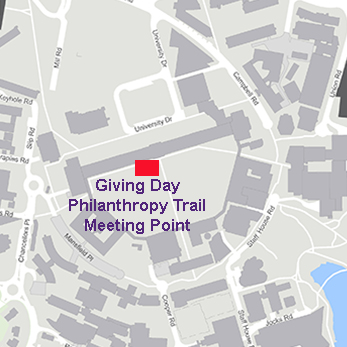 About Alumni events
UQ alumni events take place in-person and online, across the globe, throughout the year. You can keep up to date with UQ alumni events in your area by updating your details.
Venue
Forgan Smith Tower, Great Court, St Lucia campus