Friends of Antiquity: Adrian Heyworth-Smith Memorial Lecture (in person and online)
6 February 2022

2:00pm

–

4:00pm
Join us in person or online for the 2022 Adrian Heyworth-Smith Memorial Lecture. The in-person event will be held at The University of Queensland Forgan Smith Building, followed by afternoon tea. 
Livy's narrative of Brennus and the Gauls' attack on Rome at the end of Book 5 of his ab urbe condita (From the Foundation of the City) is one of his finest. It had more drama and pathos per chapter than many a full-length adventure film.
Scholars of ancient Rome are used to Livy's flourishes and rhetoric, but in view of the political situation at the time he was writing, it would be no surprise to anyone if his narrative was heavily adapted to deliver a contemporary message. Most of all, however, Livy's cinematic narrative offers us an insight into his present anxieties and his hopes for the future of Rome.
Presenter: Associate Professor Kathryn Welch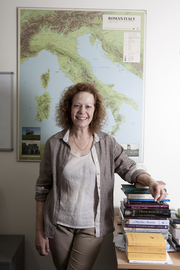 Associate Professor Kathryn Welch graduated from the University of Queensland in 1991 after three years there as a PhD student and tutorial assistant. She then took a position at the University of Sydney and taught there until her retirement in March 2021. Her teaching and research interests centre on the late Roman Republic and its historiography, but she also has an enduring interest in the history of the city and its ancient topography. And anything else that gives her an excuse to travel to Italy.
About Alumni events
UQ alumni and community events take place in-person and online, across the globe, throughout the year. UQ alumni are invited to join the UQ ChangeMakers platform to access early event registrations, benefits and discounts.
Venue
Online event via zoom
In person event in Room E302, Forgan Smith Building, The University of Queensland, St Lucia Campus