The 2019 Rare Book Auction was held on 3rd May 2019, at UQ's Fryer Library. The 2019 Rare Book Auction Catalogue is still available here.  The Auction was held on Friday 3 May 2019 (viewing 4-6pm, Auction 6pm for 6:30pm start) at the Fryer Library, The University of Queensland, St Lucia. Absentee bids were accepted until 3pm local time on the day of the auction, using the Absentee Bid Form).

View some of the tantalising lots which were available at the auction in 2019.
 
What is the Rare Book Auction
Every two years a major auction is held for extraordinary finds – the antiquities, the alluring, the curious and the fascinating books that have a value beyond that great holiday read. These books are certainly worth collecting.
And what makes them so special? 
Well, it could be their rarity, their provenance, their artistic value, their local historical significance, their academic influence, or even quality of their printing and binding. For more information regarding a book's value, please check out Sotheby's guide to rare books.

Thanks to the eagle eyes of The Book Group Volunteers, we often have a number of precious items to be sold at our Rare Book Auction.

If you have never experienced the excitement, the thrill of a real life auction, then here is your chance. In 2019, there were over 100 lots that went under the hammer.

Funds raised from the Rare Book Auction go towards scholarships, bursaries and research grants to help further the education of students at The University of Queensland.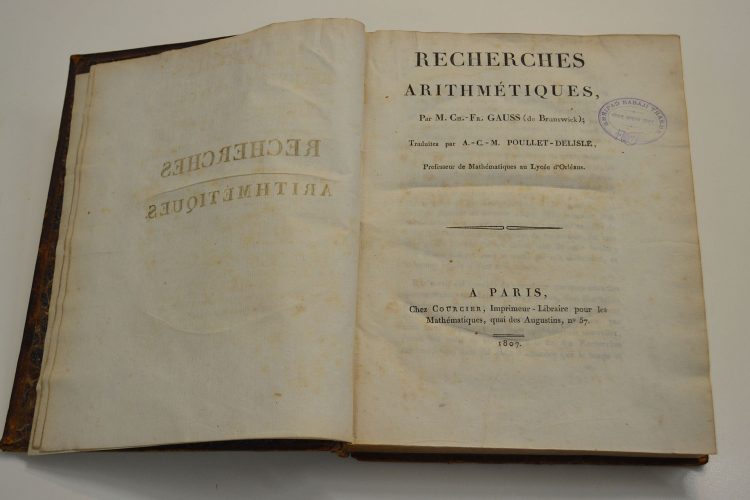 The Book Group has discovered a number of very exciting books.

To date, their research has identified only six copies in the world, including one in The Library of Congress and one held by The Royal Society.

One of our recent discoveries 
A book by Carl Friedrich Gauss (1777-1855), a mathematical genius in his time. He is credited with the definition of The Method of Least Squares, which is widely used for fitting lines and curves to discrete sets of data. In 2019, Alumni Friends donated the book to the Fryer Library collection, on the understanding that it would be placed on display at the School of Mathematics & Physics (following restoration funded by the School)

Rare Book Auction in the media
Rare volumes of Captain Cook's voyage on auction at UQ fundraiser
If you would like to see a sneak peek into the rooms where our Rare Books get reviewed, please click below. Please note that this video was taken 'prior to move to UQ's Long Pocket campus.