The UQ volunteer toolkit is a guide to assist you in enhancing and managing your local UQ community. Our dedicated regional representatives are here to help by ensuring you have the most valuable experience and provide opportunities to expand your reach within your region. Please reach out to the contact for your region for more information.
Why be a UQ ChangeMakers volunteer?
As a UQ alumnus you have an extraordinary global network of alumni around the world almost 300,000 strong at your fingertips. When you become a volunteer with UQ, you become part of the inner circle of ChangeMakers that help shape the UQ alumni experience for the next generation of graduates. The benefits of volunteering are endless - you can enhance your career, forge lifelong friendships with global network innovators and rub shoulders with alumni leaders, just to name a few.  
If you would like to volunteer please reach out to us at uqchangemakers@uq.edu.au.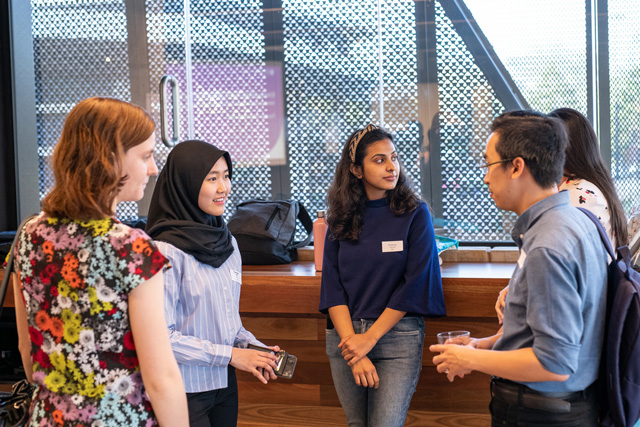 Returning home and embarking on a new path can be an exciting and anxious time for recent graduates as they navigate their new path. What better way to welcome new alumni into the fold than to give them a warm welcome back to their country. It is also a wonderful way to recruit new alumni into your alumni groups.
In this section we have outlined all the elements you will need to consider when holding an event in your city. To successfully deliver an event, you will firstly need to consider key elements of the event, and also assess if the event will appeal to a broad UQ alumni audience.
Through engaging in placements and projects with our industry and alumni partners, students have the opportunity to put their discipline-specific knowledge and skills into practice and gain valuable insight into a career within their chosen field of study.
If you have a cause that you are passionate about, which UQ supports, we would love your involvement in helping us to fundraise for these and other very important causes.
We realise that it may not be easy to connect with people in your industry or an industry that you have a passion for – we are here to help you form connections and get the most out of your alumni experience.
Wherever you are in the world, we want to make sure you feel connected to your alma mater.
If you are looking for an alumni speaker in your region, please reach out and let us know.
UQ is home to world leading academics and researchers. As part of the UQ ChangeMakers network you will have access to these academics.