The UQ Alumni Book Fair is held annually and the Rare Book Auction is held every two years.
The very first Book Fair was held in 1979, thanks to the work of Alumni Friends' members and volunteers, led by Lisbeth Hopkins OAM.
The Book Fair has three essential aims to:
1. Raise money to support the researchers, educators and students at UQ.
2. Attract alumni and members of the general public to the St Lucia Campus, to see what the University has to offer.
3. Find a 'good home' for pre-loved books, magazines, sheet music, DVDs, CDs, vinyl records, and even the occasional photograph, ephemera or print.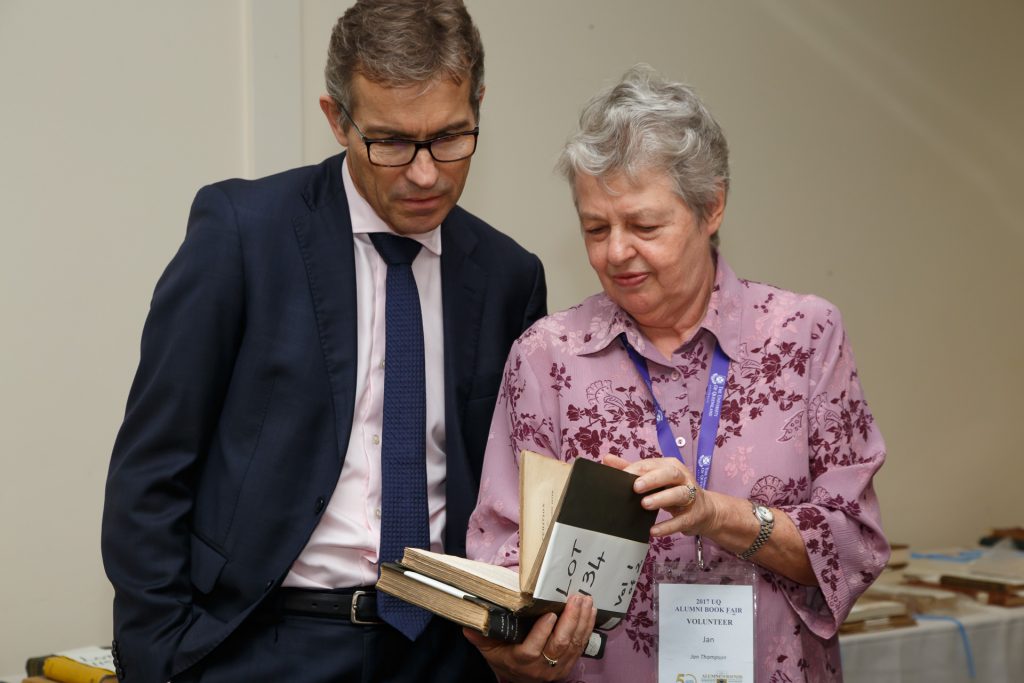 How does it work?
On average, over 110,000 books are prepared for each Book Fair. Preparation consists of sorting, classifying, pricing and packing books, not all of which can be accepted for sale. Some books not selected for sale are passed onto community organisations, while others are sent overseas. Every book received has potential to help someone.

Work in preparation for each Book Fair commences immediately after the preceding Book Fair has concluded. This work takes place at The University of Queensland, Long Pocket Campus, in Kurrajong and Banksia Buildings by the volunteers known as the Books Group. They are a group of book lovers consisting of retired academics, teachers and professionals who meet on a regular basis. Some are UQ alumni, while others are from universities from around the world. But not all are graduates. Everyone is welcome. A love of books and a willingness to volunteer are the only requirement if you would like to join the Books Group.

Each member of the Books Group contributes approximately 200 hours in a non Book Fair year, increasing to 275 hours in the lead-up to each Book Fair. It is estimated that over 20,000 hours are contributed (over each two-year period) to make the UQ Alumni Book Fair the success it is today.
"I was surprised and happy to hear that I had been awarded the Veterinary Alumni Prize for 2017. My lifelong dream has been to be a veterinarian and I am nearly there. Receiving this Prize means so much to me, because it is an acknowledgement of all the hard work I am putting in throughout this degree…many thanks for supporting students like me in their journey through UQ." Lauren Duthie Brown
Find out when the next UQ Alumni Book Fair or Auction is scheduled